Our first competition round, which contributes towards the Mayor's Cup at the end of the season, was judged by Robert Eschle from Truro using Zoom Meeting. Unlike previous years, it was decided to add a themed competion to each round in an attempt to encourage members to go out and take more photographs. So there were two competitions to be judged on the night – an Open competition and a themed competition "Reflections"
Robert gave a detailed critique of each image and made suggestions on how the images may have been handled and subsequently presented with different crops and compositional variations, where these were physically possible.
The winning Open image was a fish eye image of Christchurch College by Rob Slade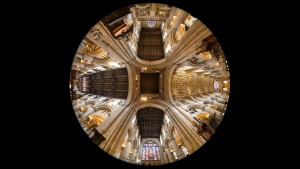 and the same author gained first place in the Reflections category with his image of the building formerly known as Colston Tower in Bristol city centre.